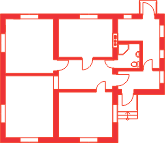 General Building Insurance Does NOT Cover Subterranean Termite Damage
Superior Pre-Build Termite Protection Protects...
1. Slab Foundations - Complete physical barrier for Under/In Slab and in perimeter wall cavities.  2. Brick Foundations - Custom installations for brick foundations.  3. Slab Joints - Abel Flex now kills termites, our Greenzone impregnated Abel Flex solution (Learn more)
What We Install In New Buildings & Extensions

Superior Termi Pre-Build solutions include physical and chemical termite barriers combined.  Termi Pre-Build is installed to the foundations of new buildings or extensions to provide a continuous barrier which prevents concealed entry of termites into the building, thereby protecting the asset.
$1 Million Dollar, 50 Year Manufacturer Warranty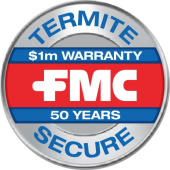 FMC, manufacturers of Homeguard wanted to make a transparent and absolute commitment to property owners.  General insurance does not cover subterranean termite damage so FMC introduced the ultimate subterranean termite warranty for Australian property owners.  The FMC HomeGuard MillionDolar Warranty is a no-nonsense, simple warrranty covering all structural and decorative timbers that are protected by a HomeGuard subterranean termite barrier installed by Superior Pest Management.
Important: The warranty is conditional on undertaking an annual inspection of the property at the property owner's expense.  The inspection of the dwelling is to check for anywhere the barriers may be compromised. For example, gardens built up too high, paths built up to high, stored goods built against the exterior walls etc. This inspection may be packaged with your other treatments/inspections.  These conditions will void any warranty or claim from the homeowner to the installer or manufacturer.  Learn More Here
Pre-Build Termite Control F.A.Q.
Q What products do you use?
A For foundations we use HomeGuard  (Learn more)and for slab joints we use Greenzone (Learn more)
-----------
Q How long will it last?
A HomeGuard lasts for at least 50 years and Greenzone (Abelflex) lasts for at least 2 years.
-----------
Q When is it installed?
A During construction, sealed permanently to the foundations of the building, e.g. Under/in slab and in
perimeter wall cavity.
-----------
Q What does it do?
A It utilises the proven power of Biflex, incorporated into its plastic matrix. HomeGuard repels, kills and blocks foraging termites.
Q Who can install it?
A Only accredited, trained installers. We are a prefered HomeGuard installer in the region.
Product Support & Compliance
Further information can be found at the following links including installation guides, product information and conformance documentation.
For all real Pre-Build termite control services call an expert today on Phone: (02) 4968 9810 

Request a FREE Quote Now:
Superior Quote Request New