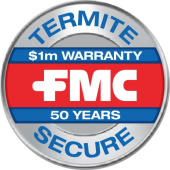 Important: Why you need this service! Your HomeGuard Pre-Build Termite Protection warranty is conditional on undertaking an annual inspection of the property at the property owner's expense.  The inspection of the dwelling is to check for anywhere the barriers may be compromised. For example, gardens built up too high, paths built up to high, stored goods built against the exterior walls etc. These conditions will void any warranty or claim from the homeowner to the installer or manufacturer.
What we do if HomeGuard is installed at your property;
~ Annual on-site inspections of the interior and exterior of the building(s)
~ Termite and other pest prevention and control services
~ Site reports on the status of your HomeGuard protection
If HomeGuard was not installed by Superior Pest Management we are able to manage your inspection services as well.
$1 Million Dollar, 50 Year Warranty

FMC, manufacturers of Homeguardwanted to make a transparent and absolute commitment to property owners.  General insurance does not cover subterranean termite damage so FMC introduced the ultimate subterranean termite warranty for Australian property owners.  The FMC HomeGuard MillionDolar Warranty is a no-nonsense, simple warrranty covering all structural and decorative timbers that are protected by a HomeGuard subterranean termite barrier installed by Superior Pest Management.
For all real Pre-Build termite control services call Phone: (02) 4968 9810 

HomeGuard Product Information
Further information can be found at the following links including installation guides, product information and conformance documentation.
Request a FREE Quote Now:
Superior Quote Request New